Kwestomar Kreations is an African fashions business that produces and sells African crafts like Ebony and tropical hardwood carvings;  gift ideas such as pen holders, carved pens and letter openers, jewellery boxes, key chains; leather and Kente accessories such as bags, purses, wallets, footwear, bow and neck ties, Kente strips and Kente stoles; jewellery made from wood, beads, bone, cowry shells; the popular game Oware or Mancala; pure Shea Butter; and unique African wear for the whole family to attend casual, semi-formal and formal functions.
All items are handmade from the Motherland, Africa and artisans are paid a fair price and supported in their trades.

Kwestomar Musical Services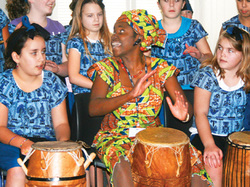 Kwestomar Musical Services promotes traditional African folk music.   It is an undisputed fact in the music world that the rhythms from Africa are the most complex in the whole world.  The goal of Kwetomar Musical Service is to provide an awareness and appreciation of African culture through music.  Instruments such as drums, axatse (shaker), gankogui, toke, frikyiwa (bell instruments), CD's, DVD's are sold.
Traditional Drumming and Dancing and Marimba Workshops and presentations are offered.
Mary's African Cuisine offers only authentic dishes from West, Central and East Africa.  Head Chef Mary Nkrumah has experience operating restaurant, cafes and bakeries in Ghana, and has brought a traditional flair to the preparation of African stews and snacks to Halifax, Nova Scotia.
You can find Mary's smiling face on Saturdays at the Halifax Seaport Market, and at festivals around Nova Scotia, including the Nova Scotia Multicultural Festival, the Halifax Buskers Festival, and the African Festival of Arts and Culture. 
Contact Mary at 902-293-4548 or at noblemay@yahoo.com.